Focus types in Brazilian Portuguese: Multimodal production and perception
This paper aims at describing prosodic focalization as a multimodal phenomenon in Brazilian Portuguese, evaluating the role of two modalities in focus production and perception: audio (A), visual (V), and their combined audiovisual presentation (AV). Five focus types are considered, according to their semantic-pragmatic values: (a) in declarative sentences: (i) IF - informational focus (answer to a previous question, conveying new information), (ii) CF- contrastive (strong) focus (correction of information considered wrong); (iii) ATF - attenuated (weak) focus (proposition of an alternative solution to previous information); (b) in interrogative sentences: (i) INTF - interrogative focus (a new information is requested in the question); (ii) SF - surprise focus (one casts doubt on a previous information). Also, structural factors were evaluated, as focus extension and position in the sentence. After running a multimodal perceptual experiment and developing an acoustic and visual analysis on focus production, results show that multimodality plays a relevant role in focus production and perception. Different acoustic and visual parameters, or configuration of parameters, contribute to conveying distinct meanings, according to each focus type.
Este artigo descreve a focalização prosódica como um fenômeno multimodal no português do Brasil, investigando a relevância de duas modalidades na produção e percepção do foco: auditiva (A), visual (V), além de sua apresentação audiovisual (AV). Cinco tipos de foco são considerados, de acordo com seus valores semântico-pragmáticos: (a) em enunciados assertivos: (i) FI - foco informacional (uma resposta a uma pergunta prévia, constituindo informação nova), (ii) FC - foco contrastivo (correção de uma informação errada), (iii) FAT - foco atenuado (proposição de uma solução alternativa para uma afirmação prévia); (b) em enunciados interrogativos: (i) FINT - foco interrogativo (uma nova informação requisitada em uma pergunta); (ii) FE - foco com estranheza (uma informação prévia é colocada em dúvida). Também foram investigadas a extensão e a posição do foco na sentença. Após a aplicação de um experimento perceptivo e de uma análise multimodal, os resultados mostraram que a multimodalidade apresenta relevância na produção e percepção do foco. No entanto, diferentes parâmetros acústicos e visuais, ou a sua combinação, contribuem para a transmissão de diferentes significados, segundo cada tipo de foco.
Fichier principal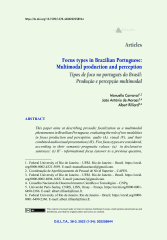 OUEZZWPW.pdf (1.91 Mo)
Télécharger le fichier
Origin : Publisher files allowed on an open archive