Effects of F0 movements, intensity, and duration in the perceptual identification of Brazilian Portuguese wh-questions and wh-exclamations
ABSTRACT This study presents a perceptual analysis of the Brazilian Portuguese wh-question and wh-exclamation intonational contours to discriminate their acoustic and perceptual features. The corpus of this study is composed of the sentence "Como você sabe" ("How do you know" vs. "How clever you are!"), which was produced with both speech acts. Two perceptual identification experiments were designed to assess the subjects' ability to identify these speech acts based on their prosodic characteristics, as well as the perceptual relevance of specific prosodic cues in the recognition of wh-questions and wh-exclamations. The results of the first perceptual test indicated that Brazilian listeners can identify these two speech acts by intonation only, whereas the second test showed that F0, duration and intensity cues contribute to the perceptual identification of the speech acts. Stimuli with a falling F0 movement in the last stressed syllable tend to be interpreted as wh-questions, whereas stimuli with a slightly rising F0 movement tend to be judged as wh-exclamations.
RESUMO Este estudo apresenta uma análise perceptiva da entoação da questão parcial e da exclamação do português brasileiro com o objetivo de discriminar suas características acústicas e perceptivas. O corpus deste estudo é constituído pela frase "Como você sabe", que foi produzida com os dois atos de fala. Aplicaram-se dois testes de percepção para avaliar a capacidade dos sujeitos em identificar esses atos de fala baseados nas suas características prosódicas, bem como a relevância perceptiva de pistas prosódicas específicas que atuam no reconhecimento da questão parcial e da exclamação. Os resultados do primeiro teste perceptivo aplicado com vinte e cinco ouvintes indicaram que eles identificam esses dois atos de fala somente pela entoação, enquanto os do segundo teste aplicado com vinte participantes mostraram que a configuração da F0 no núcleo das sentenças e as informações de intensidade e duração contribuem para o reconhecimento perceptivo desses atos de fala. Estímulos com movimento de F0 descendente na última sílaba tônica tendem a ser interpretados como questão parcial, enquanto os estímulos com movimento de F0 ascendente de baixa amplitude tendem a ser julgados como exclamação.
Fichier principal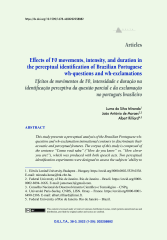 --jDveGz.pdf (894.02 Ko)
Télécharger le fichier
Origin : Publisher files allowed on an open archive