SPECIFICITY OF THE MICRO-COMMUNITY SIGN LANGUAGE OF MARAJÓ ISLAND (BRAZIL) WITH RESPECT TOTHE BRAZILIAN INSTITUTIONAL SIGN LANGUAGE (LIBRAS
Originalité de la langue des signes micro-communautaire de l'île du Marajó (Brésil) par rapport à la langue des signes institutionnelle brésilienne (Libras).
This paper presents the analysis of a micro-community Sign Language (SL) used on Marajó Island (Brazil). We try to evaluate the structural difference between the institutional SL officially recognized in this country, the LIBRAS, and this SL. Our analysis, focused on syntactic and lexical aspects, shows significant similarity between the two SLs in the use of syntactic structures specific to SL, i.e. transfers. However, these similarities can be explained by the existence of an invariant foundation between all SLs, even beyond LIBRAS. The analysis also highlights the use of a high proportion of lemmas specific to the micro-community SL alone. Overall, the observed similarity between the two SLs seems to be more related to the characteristics of SLs in general. The results are put into perspective with concrete challenges for the concerned populations, particularly regarding access to education.
Cet article présente l'analyse d'une Langue des Signes (LS) micro-communautaire utilisée sur l'île de Marajó (région de Nordeste, Brésil). Nous tentons d'évaluer l'écart structurel entre la LS institutionnelle reconnue officiellement dans ce pays, la LIBRAS, et cette LS. Notre analyse, focalisée sur les aspects syntaxique et lexical, montre une large part de similarité entre les deux LS au niveau de l'utilisation de structures syntaxiques spécifiques aux LS, les transferts. Ces similarités s'expliqueraient par l'existence d'un socle invariant entre toutes les LS, au-delà même de la LIBRAS. L'analyse souligne également l'utilisation d'une forte proportion de lemmes propres à la seule LS micro-communautaire. Nous concluons sur une similarité entre les deux LS davantage liée aux caractéristiques propres aux LS en général. Les résultats sont mis en perspective avec les enjeux sur le terrain pour les populations concernées, notamment au niveau de l'accès à l'éducation.
Fichier principal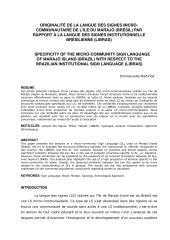 Sigma-Martinod2022.pdf (598.45 Ko)
Télécharger le fichier
Origin : Files produced by the author(s)