Vaccination contre l'hépatite B : entre sécurité juridique et protection des patients
By its judgment of 21 June 2017, the European Court of Justice replied to a request for a preliminary ruling from France regarding the proof of defect of Hepatitis B vaccine and the causal link between the defect and the damage suffered. This request had been issued by the French Cour de cassation in order to decide between scientific and legal approach of the causal link. Although the choice of the second option is favorable to the victims, some questions still remain and the controversy is not resolved.
Saisie de questions préjudicielles relatives à la mise en évidence du lien de causalité entre vaccination contre l'hépatite B et sclérose en plaques, la CJUE a rendu le 21 juin dernier un important arrêt. L'orientation des questions visait à éclairer la Cour de cassation sur les moyens de preuve admissibles dans le cadre de la responsabilité du fait des produits défectueux, et à trancher ainsi entre les tenants d'une stricte causalité scientifique et les partisans d'une causalité juridique. S'il se prononce en faveur de cette dernière et constitue, de ce fait, une réelle avancée pour les victimes, il n'est cependant pas sûr que l'arrêt de la CJUE suffise à tarir l'ensemble de la controverse.
Fichier principal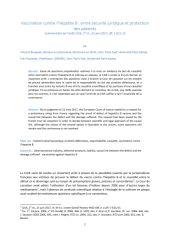 Vaccination contre l'hépatite B, entre sécurité juridique et protection des patients.pdf (801.08 Ko)
Télécharger le fichier
Origin : Files produced by the author(s)