A whole-cell patch clamp study of ionic currents in single atrial cells of the tropical toad Bufo marinus.
ESTUDIO DE LAS CORRIENTES IONICAS EN CELULAS CARDIACAS AISLADAS DEL SAPO Bufo marinus
A simple enzymatic dissociation method is described to obtain isolated cells from the atrium of adult toad Bufo marinus. The electrical activity of single cells were recorded with the whole -cell patch clamp technique. Action potential characteristics and Na, K, and Ca currents are compared to those measured on uni- or multicellular cardiac preparations from other adult amphibians.
Se describe un merodo simple de diaociacion enzirnatica para obrener celulas aisladas de la audcula del sapo Bufo marinus. La actividad electrics de las celulas aisladas se registro con la tecnica del patch clamp de celula entera. Las caracterfsticas de) potencial de accion y de las corrientes de Na, K y Ca se comparan con aquellas medidas en preparaciones de otros anfibios adultos
Fichier principal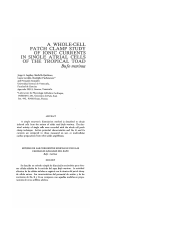 Version HAL.pdf (798.57 Ko)
Télécharger le fichier
Origin : Files produced by the author(s)